STYKU
THE #1 RATED PROFESSIONAL 3D BODY SCANNER IN THE WORLD.
Extract measurements, shape, body composition and other insights relevant to your members, clients, and patients.
For more information please go to www.styku.com
Lightweight, Portable, and Intuitive
Perform a 3D body scanning in seconds using just a simple turntable and 3D camera. In only 35 seconds, we extract millions of measurements with 2mm accuracy and reconstruct your body in 3D.
See the Difference in your Body's Shape in 3D.
Tape measures are inaccurate and difficult to use. Finally, there's a reliable way to extract a waist, hip, bust, and hundreds of other body measurements.

Analyze Hundreds of Body Measurements
Extract measurements like your waist, hip, thigh, and more with less than 1% error.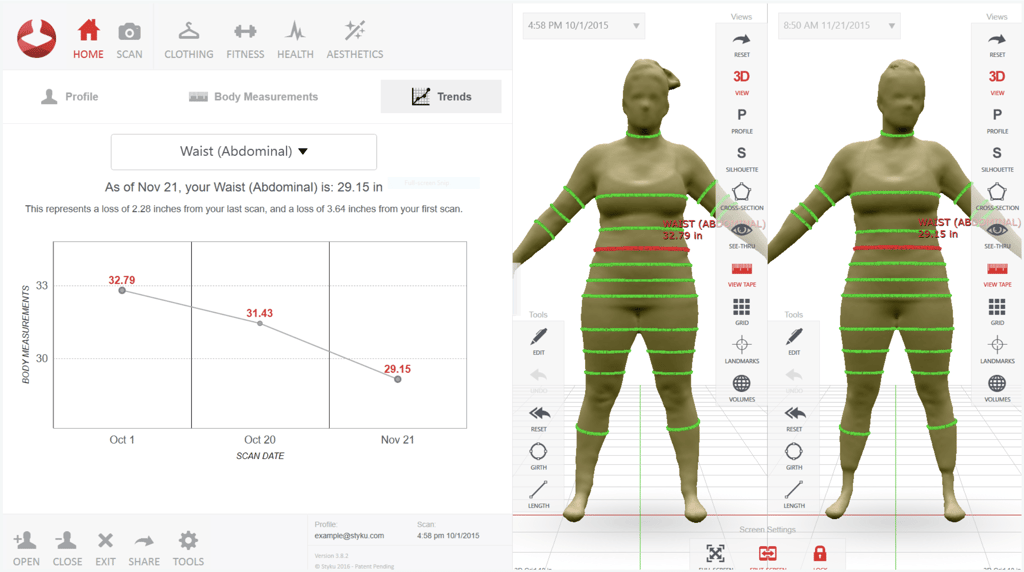 Differentiate your business with 3D body scanning.
Whether you're a fitness professional, doctor, or even a tailor, Styku's technology enables you to extract key body shape and measurements relevant to your industry.
FITNESS & SPORTS
We leverage body measurements to calculate body fat % with incredibly high precision. Fitness professionals can use the 3D model to highlight changes in shape and/or to set goals.
AESTHETICS
Plastic surgeons, dermatologists, and other aesthetics professionals use Styku's technology to validate the effectiveness of body contouring devices. Before/after 3D images illustrate real change.
MEDICAL WEIGHT LOSS
Coming Soon: Body measurements are correlated with obesity related disease, which doctors use to assess and stratify risk. Bariatric surgeons and weight-loss professionals track progress using precise and accurate measurements.
MADE-TO-MEASURE
Coming Soon: We enable clothing and footwear manufacturers the ability to improve fit by replacing a measuring tape with a tool that's more consistent. We also provide retailers the ability to predict size & fit.