Intenza Treadmill 550Te2
Awarded 2014 Fitness Tribune Design Award, the 550Te2 Treadmill is quickly earning a reputation as cardio equipment of the highest caliber. The 550Te2 merges stunning design and smart technology with the entertainment and performance features exercisers demand. The eye-catching design of our 550Te2 blends artistic lines and the long lasting beauty of aluminum elements with today's must-have technology – creating a line of cardio products truly for the 21st Century. Exercisers marvel at the stable, spacious experience of working out on an Intenza treadmill while operators love the ease of maintenance and sleek, upscale look it adds to their facility.
Why the Entertainment Series?
Complete your training with Intenza's Entertainment Series and enjoy more than just a stimulating cardio workout.  Our e Series consoles deliver unique solutions through InCare™ self—diagnostic software which automatically alerts our InCare™ Support Team when attention is needed and entertainment through Intenzacast™ which broadcasts digital content from iOS or Android devices.
With Wi—Fi® and Bluetooth® connectivity, Intenza's 19" e Series touchscreen console delivers a highly—connected consistently captivating experience giving exercisers seamless access to entertainment, social media, training applications and more.
19" TOUCHSCREEN MONITOR
19" Touchscreen consoles operate like smart devices.  Industrial—grade construction ensures long—term performance and function.
INCARE™
InCare™ Support, Intenza's comprehensive product maintenance program.  e Series Wi—Fi® enabled console automatically delivers software updates and service information.
POLAR®–CODED
Polar®—coded wireless telemetry technology with integrated heart rate receiver delivers the most robust heart rate monitoring technology on the market.
CUSTOMISE AND PROMOTE YOUR FACILITY
Customise your facility experience with our screensaver solution.  The Intenza e Series console offers 10 slides to create equipment screensavers, branding and custom messaging.
INTEGRATED RACE PROGRAMS
Integrated race programs and customisable workout features inspire healthy competition and keep exercisers engaged and motivated.
Intelligence
The most revered brands are those with the best customer service. Scheduled maintenance, software updates, and service needs are addressed promptly and accurately. Facilities can rest assured, servicing an Intenza product is easy, hassle-free, and wholly professional.
Machines alert Intenza's InCare™ online service team when attention is needed and troubleshooting is performed based on the information relayed by the products. Built-in self-diagnostic tool takes the guesswork out of identifying a maintenance need.
Using the Intenza's InCare™ Online customer care program, machines send an alert to Intenza's InCare™ online service team when service is needed – speeding up the solution and saving operator time.
Environmentally Friendly
Meets European Directive 2013 ErP Standards for EcoDesign for reducing environmental impact and energy consumption throughout its lifetime.
After 60 seconds of detecting no strides , the treadmill's belt instinctively stops, this is a safety measure for the user.
As an added energy saving measure for the facility, the console goes into power saving mode reducing energy consumption to a 0.4 watts.
All Intenza products are built under our rigorous green manufacturing practices. For more on our Green Story, click here.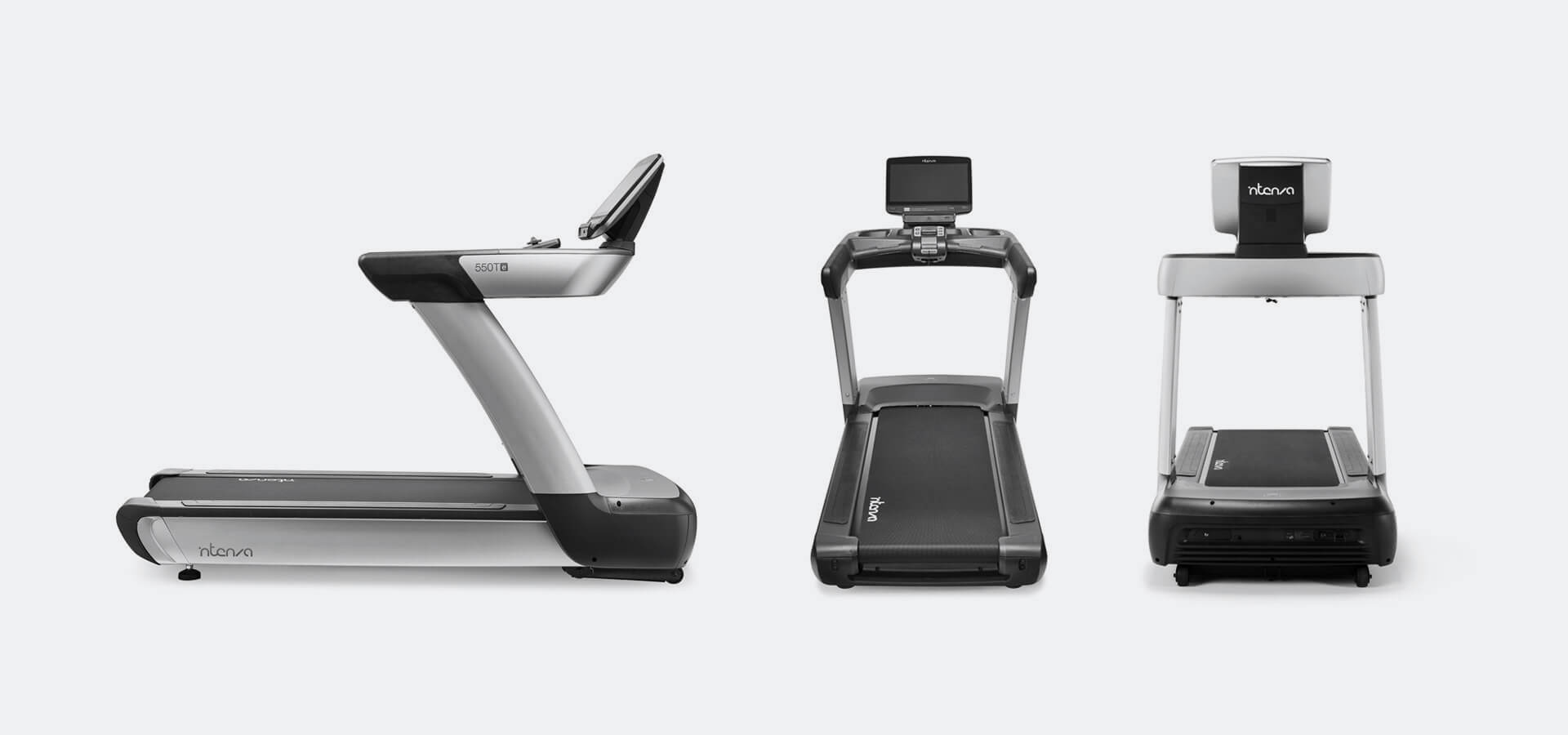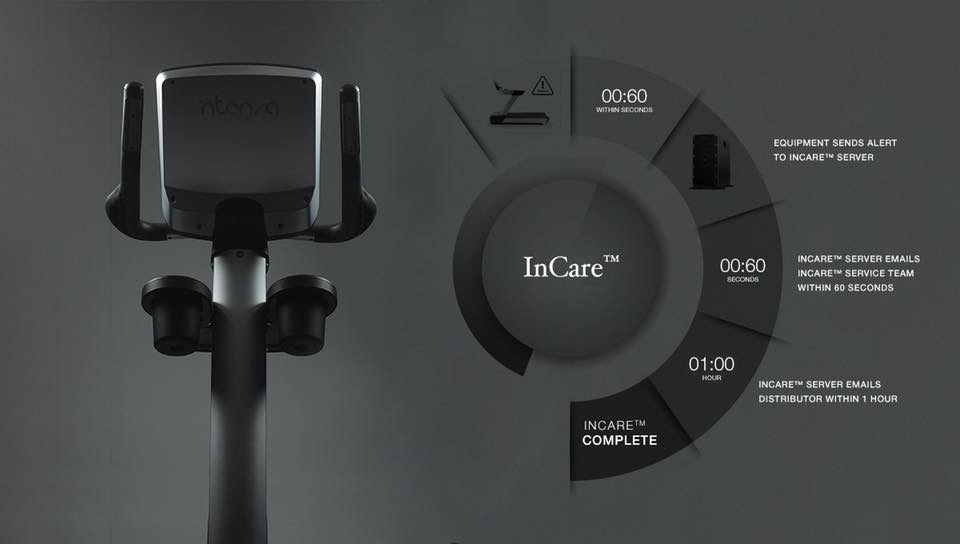 Product Features InCare™ – InCare™ online automatically detects when service is needed and sends service diagnostic via WiFi.
USB Connectivity For customised workout, workout results, personal settings, multimedia, manual software upgrade.
C-SAFE Connectivity Standard C-SAFE connectivity facilitates data transfer.
User Custom Settings
(1) display unit: Km or Mile (2) buzzer sound: on or off
When USB is detected, users may customise (1) name (2) display unit (3) age (4) gender (5) weight (6) buzzer
Smart machine will automatically prioritise personalised settings and workout routine when USB is detected
Comfort Fit™ Comfort Fit™ designed with easy to use manual stick shift and streamlined motor cover for running in convenience and comfort.
Deck and Belt Double-sided pre-waxed reversible deck and 2.5cm pre-waxed belt.
Reversible Deck Yes
Emergency Stop Safety clip attached to emergency stop switch to immediately turn off power, bringing treadmill to a gentle stop. Stop switch has no magnet to lose and has a guard to prevent inadvertent activation.
Auto Stop 60 seconds
Accessories Holder Yes
Transport Wheels Yes
Maximum User Weight 181 kg / 400 lb.
Step-up Height 27 cm / 11 in
Running Surface (L x W)
155 x 56 cm / 61 x 22 in
Speed Range 0.8 – 25 km/h / 0.5 – 15.6 mph
Incline 0-15% incline in 0.5% increments
Dimensions & Weight
Footprint (L x W) 215 x 96 cm (84 x 38 in)
Product Dimensions (L x W x H) 215 x 96 x 154 cm (84 x 38 x 60 in)
Product Net Weight 262 kg (576 lb.)
Shipping Dimensions (L x W x H) 225 x 109 x 75 cm (88 x 43 x 29 in)