Creating your own Cycle Studio Business
There is an art to creating Spin Studio environments so emotionally and socially engaging that customers want to be there. What's working for the Spin Studios all around the world can be put to good use in your club! See below a list of ideas and topics to help create and maintain your Spin Studio.
How we can help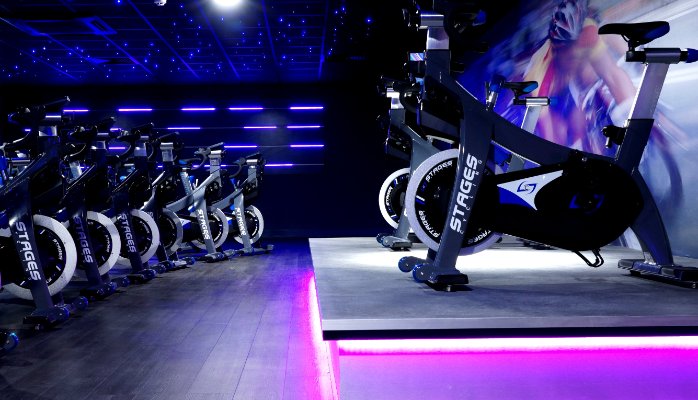 Layout and Spacing – All participants must have a clear and unobstructed view of the instructor. For live classes the instructor bike should be on a small stage.
Bikes – The quality of your bikes significantly affects your members experiences. It's the primary piece of equipment they use. Stages bikes offer an authentic rider and trainer experience and what we successfully use for our clients . Here is a list of our bikes currently available.
Lighting and Aesthetics – Great aesthetics and lighting work together to create the overall studio experience. Carpets, colors, wall graphics, marketing materials, patterns and shapes can all be used to create a great sense of energy and movement.
Sound System and Acoustics – Creating amazing workout experiences relies on a great sound system capable of pumping high volume. Aim for nightclub quality sound so your members can clearly hear the instructor and be totally immersed in the music. The positioning of sound absorbing treatments has a huge bearing on the effectiveness of the acoustic properties.
Air Conditioning and Ventilation – Fitness studios should have an average temperature of around18-20°C. The humidity level should be between 40% and 60%. Member comfort all adds to their overall experience.
Coming Soon
Manual on How to Start
Income and Expenses Model Simulator
Marketing Information
Complete the form below to access above details
Stages Studio – Customize your group fitness classes with Stages Studio, tracking group cycling data and much more!
Stages Flight – Stages Flight is where entertainment meets training. It is an interactive group display system that allows each rider to work to their optimal training level individually while in a group environment.