INTENZA 450 i2 SERIES ESCALATE STAIRCLIMBER
What distinguishes the Intenza Escalate Stairclimber from others in its category is its innovative and inclusive functional touches which seamlessly fuse design, function and versatility.  With patented Smart Step—Height technology, the Escalate accommodates diverse fitness levels by offering 20 different step heights, 4" through 7.7", making this machine ideal for those looking for an intense HIIT experience or who need a low—impact rehab session.  Its smooth lines, contoured handrails and eye—catching structure give the cardio floor a contemporary aesthetic.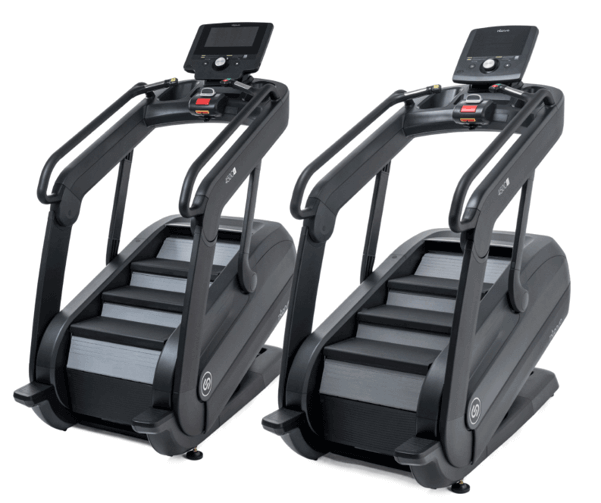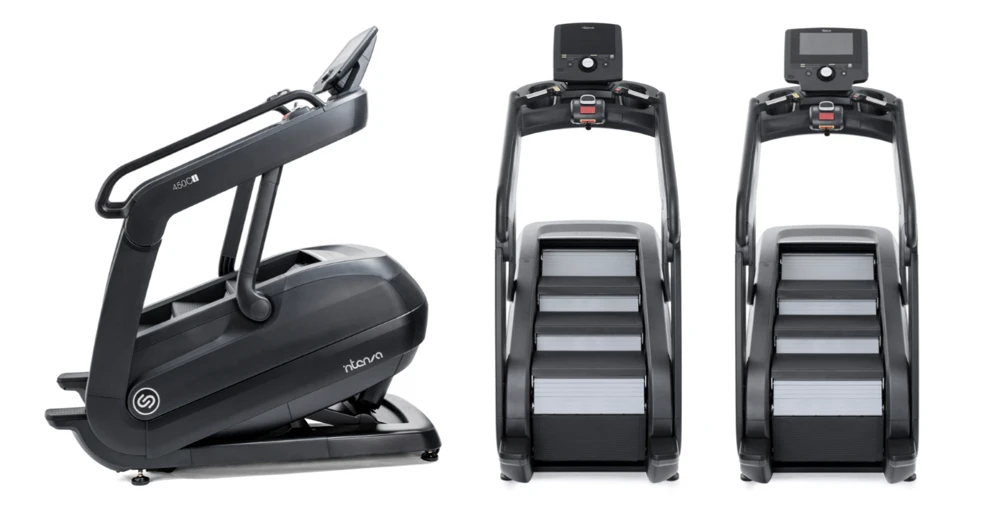 PERFORMANCE FEATURES
Easy Step: 31cm (12.2″) step—up height
Incline Angle: 20—40 degrees incline angle
Maximum User Weight: 181kg (400 Ibs)
Safety Sensor: Infrared sensor slows down the stairclimber to avoid accident when in danger
Step: 54cm (21.2″) step width; 26cm (10.2″) step depth
Step Height: 10.4cm (4″)—19.6cm (7.7″) adjustable—step—height
User Height Range: 147cm—193cm (4'9″ to 6'5″)
Wide SPM Range: Using magnetic—control generator braking system to reach 16—180 SPM range
Display Readouts: HR, Time, METS, Step Height, Calories, Level, Floor, SPM, Workout Summary, Workout Profile
Heart Rate Monitoring: Polar®—coded wireless telemetry technology: built—in heart rate receiver (heart rate transmitter strap required). Digital contact heart rate technology ensures precision and reliability
On—The—Fly: Allows switching to other workout programs during exercise
Power Saving System: Energy saver mode is used to minimize power consumption (not exceeding 0.5W) which meet Erp EC 1275/2008 requirements
MYE Audio Kit Options: Optional accessories support MYE audio receiver
Uni—Dial™ Control: Complete access and control of user interface features and settings with the convenience of the Uni—Dial™
C—SAFE Standard Power: Standard C—SAFE power supports the power supply of external tools
C—SAFE Connectivityi2 Series: Optional connectivity facilitates data transfer (available by demand)
InCare™ Onlinei2 Series: Smart machine automatically detects when service is needed and sends service diagnostic via Wi—Fi
Languagei2 Series: 21 countries are offered
Screensaveri2 Series: Upload 10 image files for messages or commercial advertisements to be displayed during stand—by
Wi—Fi Capabilityi2 Series: Supports InCare™ Online, software updates
USB Connectivityi2 Series: For settings and manual software upgrade.
Fitness Test: Fitness test determines individual's fitness level based on VO2 max standards. Test method includes WFI and CPAT.
Quick Start: Quick Start is a manual workout
Target Program: 3 Target programs: Time (1—99 mins), Distance (1—999 Floors), Calories (10—2500Kcals)
Advanced Program: 10 Preset programs: Main workout types are— Interval, Hills, HIIT
HR Controli2 Series: 4 heart rate control programs in constant power mode— HR Zone, Interval, Hill, Cardio Strength
Racei2 Series: Race program offers a fun challenge by racing against existing champion for 20F, 40F, or 80F races
Landmarki2 Series: Offers a new and unique workout option. Users can choose between 31 landmarks with different heights and floors
Accessories Holder: 2 spacious holders for water bottle and accessory storage
Cockpit: Spaciously designed for your comfort and convenience
Ergo Bar Control Centre: Manual stick shift for speed, and step—height, adjustment at an easy—access position during workout
Ergo Handlebar: Ergonomically designed handlebar with support for maximum comfort in different positions
Efficient Adjustment: Hot keys for increasing, or decreasing, speed and step—height quickly
Intenza Stairclimber 450 i2 Console
Your workout, your rules.  Offering performance, user experience and impeccable design in premium materials and intuitive simplicity, the Intenza 450 i2 Console is designed for athletes and fitness enthusiasts alike. Enhanced display readability, powered by its 12" LCD display, offers clean easy to read UI which guides users through workouts and with a simple twist of the precision Uni—Dial™ delivers complete access and control of all features at any given moment.
Build your brand, communicate information or simply connect to your community through the 450 i2's dynamic messaging screensaver function.  Through the multi—functional USB port, 10 image files of your choice connects your club to your members and, if service is required the smart machine automatically sends service diagnostics via Wi—Fi.  To install software updates simply upload through USB.