Intenza 450 SERIES ELLIPTICAL TRAINER
Conceived to provide a natural and stable workout, the Intenza 450 Series Elliptical Trainer seamlessly mimics the timing and gait of natural running.  Ergonomic handlebars are raised to a comfortable height for holding in a standing position and the pedaling motion adapted to emulate the movement of legs while running on the ground.  Intuitively smooth and low—impact movement prevents stress to joints whilst providing a total body workout.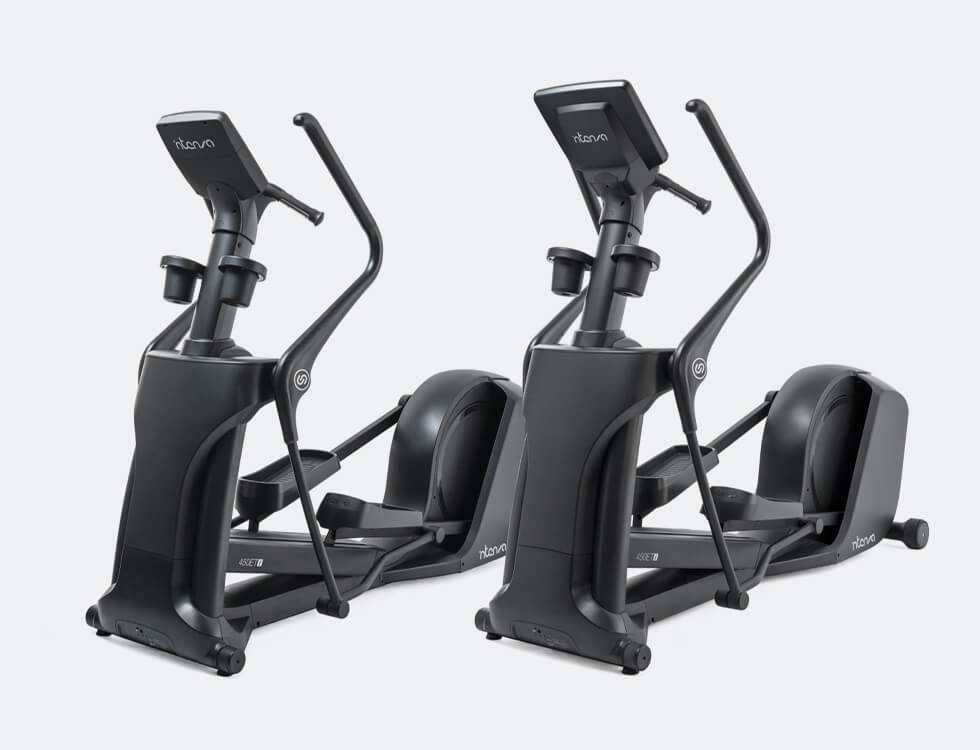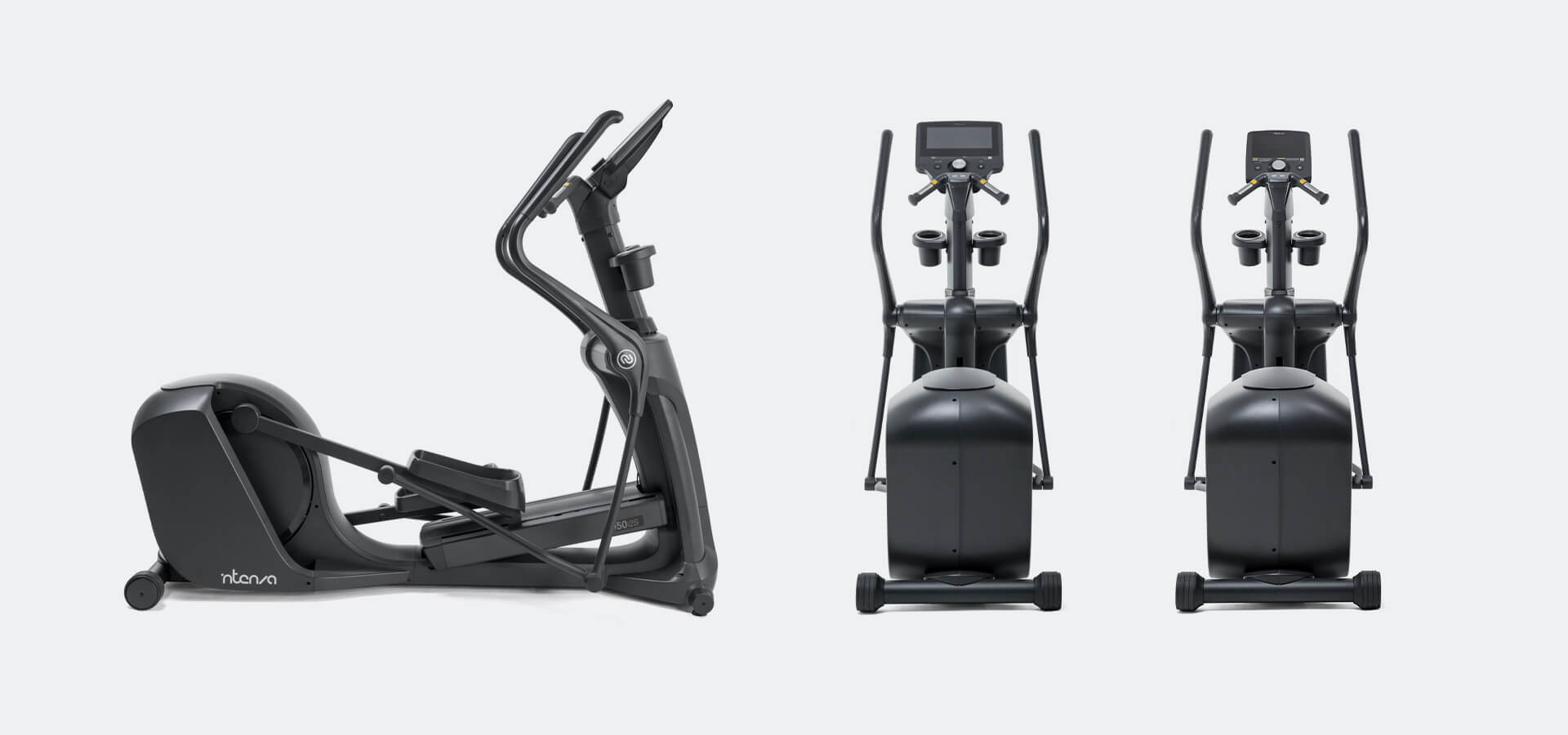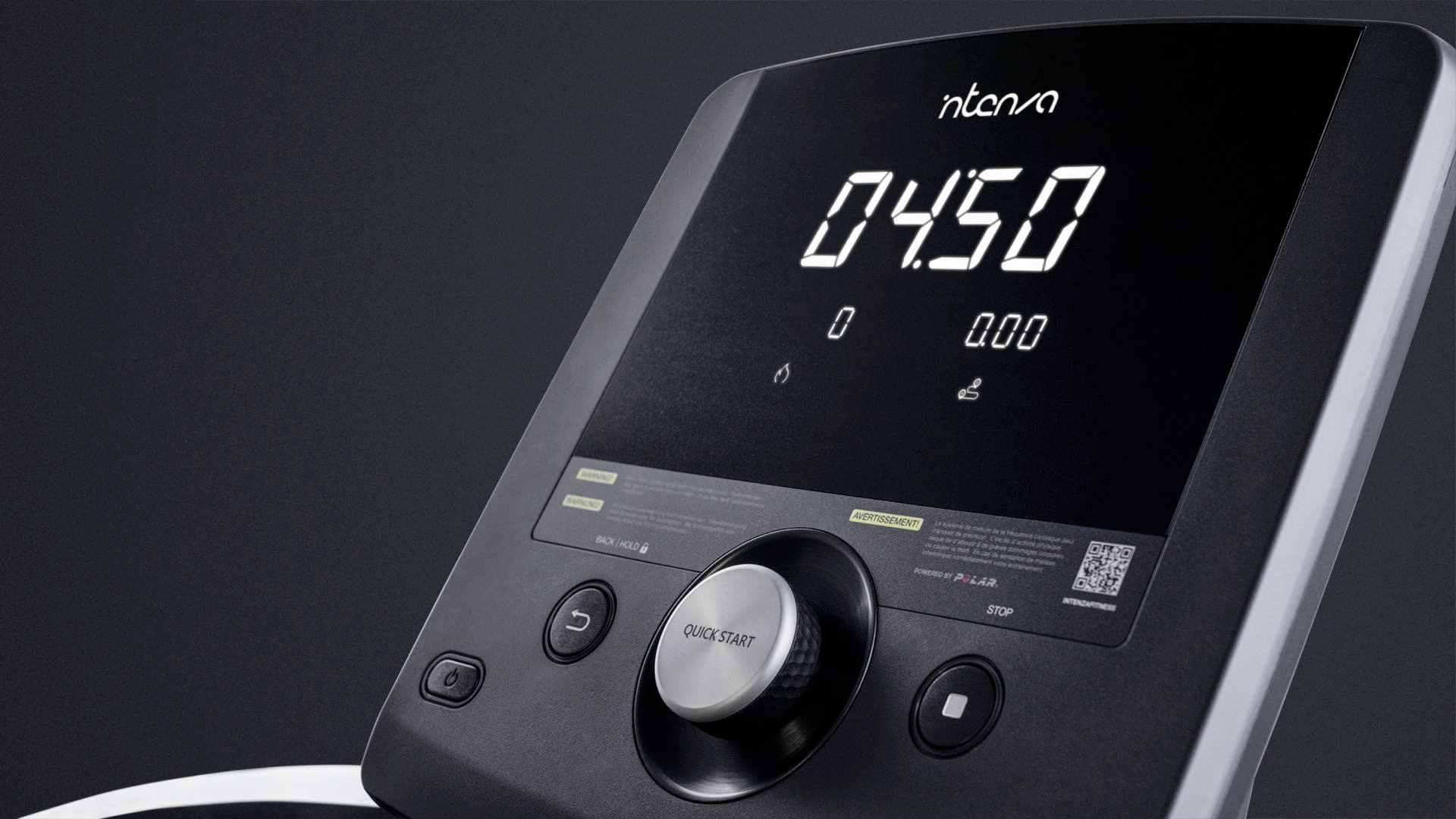 Cross Trainer PERFORMANCE FEATURES
3—Phase Generator
Self powered hybrid generator delivers consistent performance for a smooth and quiet workout
Belt Drive
Belt drive system for smoother, quieter performance. Minimise maintenance. Service made quick and easy.
Bottom Bracket
High performance bottom bracket assembly with precision sealed ball bearing for exceptional performance
Incline
16 levels (13º—40º)
Maximum User Weight
181kg (400 lbs)
Maximum Watts
630 Watts (Level 40 at 150 SPM)
Minimum Watts
15 Watts (Level 1 at 40 SPM)
Pedal to Pedal distance
6cm (2.3″)
Resistance Levels
40 resistance levels meets new European EN957—9 standards
Step—up Height
35cm (13.7″)
Stride Length
52—55cm (20.4—21.6″)
User Height Range
147—193cm (4'9″ to 6'5″)
Display Readouts
HR, Watt, Time, Incline, Calories, Distance, SPM, Level, Workout Summary, Workout Profile
Heart Rate Monitoring
Polar®—coded wireless telemetry technology: built—in heart rate receiver (heart rate transmitter strap required). Digital contact heart rate technology ensures precision and reliability
On—The—Fly
Allows switching to other workout programs during exercise
Power Saving System
Energy saver mode is used to minimize power consumption (didn't exceed 0.5W) which meet Erp EC 1275/2008 requirements
MYE Audio Kit Options
Optional accessories support MYE audio receiver
Uni—Dial™ Control
Complete access and control of user interface features and settings with the convenience of a Uni—Dial™
C—SAFE Standard Power
Standard C—SAFE power supports the power supply of external tools
C—SAFE Connectivityi2 Series
Optional connectivity facilitates data transfer (available by demand)
Display Type
i2 Series: Industrial grade 12" colour TFT LCD display for longer life time
i2S Series: Large white light LED message centre easily provides all needed information
InCare™ Onlinei2 Series
Smart machine automatically detects when service is needed and sends service diagnostic via Wi—Fi
Languagei2 Series
21 countries are offered
Screensaver
Upload 10 image files for messages or commercial advertisements to be displayed during stand—by
Wi—Fi Capabilityi2 Series
Supports InCareTM Online, software updates
USB Connectivityi2 Series
For setting and software upgrade
Fitness Test
Fitness test determines individual's fitness level based on VO2 max standards. Test method includes Astrand—Rhyming.
HR Controli2 Series
4 heart rate control programs in constant power mode—HR Zone, Interval, Hill, Cardio Strength.
Racei2 Series
Race program offers a fun challenge by racing against existing champion for 500M, 1K, or 2K races.
Quick Start
Quick Start is a manual workout.
Advanced Program
10 Preset programs: 1:3 interval, 1:2 interval, 1:1 interval, 3 step interval, Easy Hill, Rolling Hills, Peak, Hill Step, HIIT Beginner, HIIT Advanced
Target Program
i2 Series: 3 Target programs: Time (1—99 mins), Distance (1—99.9 km), Calories (10—2500 Kcals)
i2S Series: 3 Target programs: Time (1—99 mins), Distance (1—99 km), Calories (10—2500 Kcals)
Accessories Holder
Conveniently placed accessories holder for portable music players and mobile phones
Ergo Bar Control Centre
Ergonomically positioned contact heart rate sensors, incline and resistance adjustment buttons at your finger tips for ease—of—use
Foot Pedals
Ergonomic designed oversized foot pedals with soft grip to enhance stability and comfort during workout
Frame
Robust frame structure designed to ensure stability and durability. Aluminum front post offers aesthetic appeal.
Incline
Training with incline enhances workout variety while increases workout results to include different muscle groups
Upper Body Moving Arms
Synchronizing upper body and lower body movement increase overall total body fitness
Water Bottle Holders
Twin water bottle holders support 1 litre water bottles