Intenza Treadmill 550Ti
The catching design of the Intenza 550Ti Treadmill blends artistic lines and the long—lasting beauty of aluminium elements with today's must—have technology creating a line of cardio products truly for the 21st Century. Cardio equipment of true value is designed for the natural tendencies of the people using it. It should give exercisers an easy learning curve and enjoyable workout. It should give managers reliability and straightforward maintenance. And it should give both satisfaction and confidence, naturally. Intenza's 550Ti Treadmill is a natural step toward a better running experience.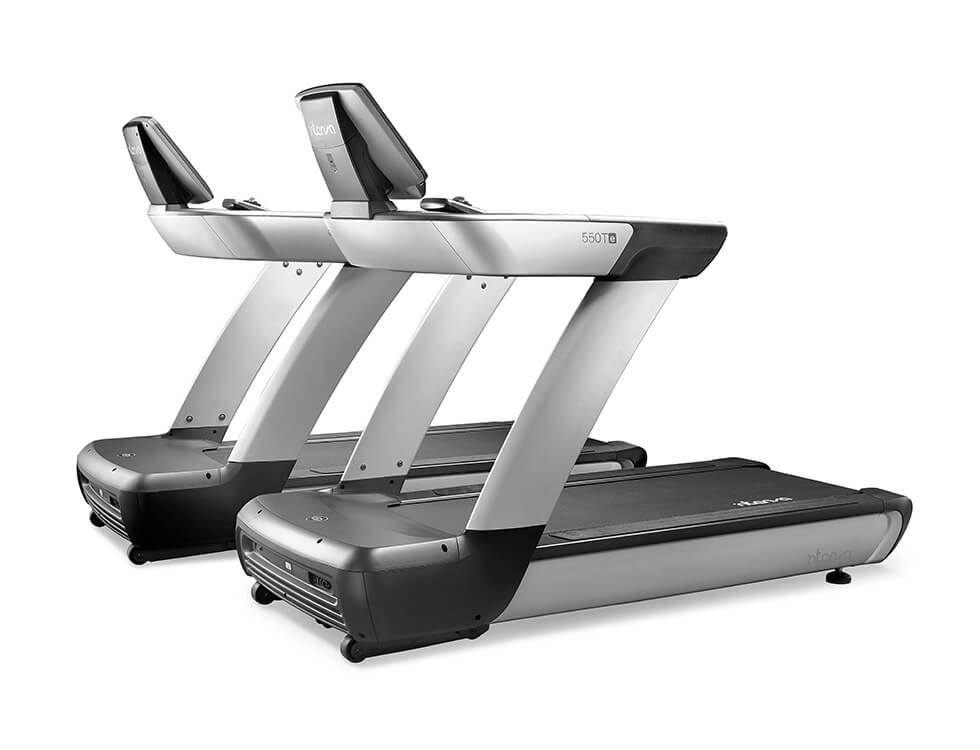 Environmentally Friendly
Meets European Directive 2013 ErP Standards for Eco Design for reducing environmental impact and energy consumption throughout its lifetime. After 60 seconds of detecting no strides, Intenza treadmill belts instinctively stop; this is a safety measure for the user. As an added energy saving measure for the facility, the console goes into power saving mode reducing energy consumption to 0.4 watts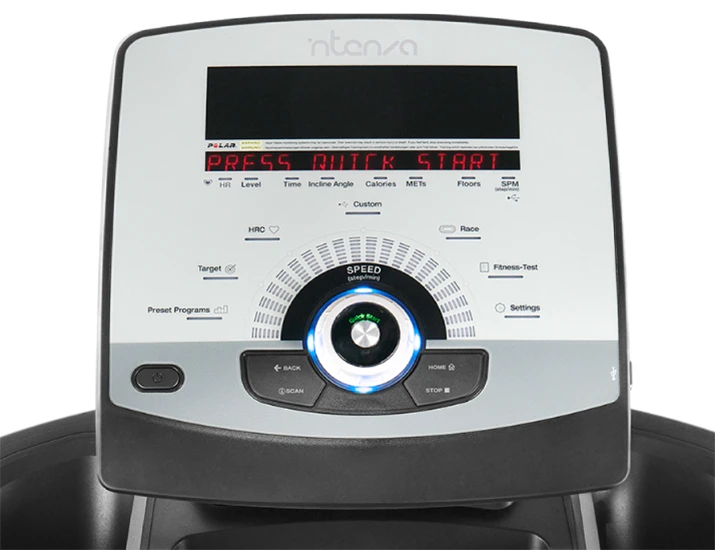 Product Features
InCare™ automatically detects when service is needed and sends service diagnostic via USB.
USB Connectivity
For customised workout, workout results, personal settings, InCare™, manual software upgrade
Uni-Dial Navigation Control ™
Uni-Dial Navigation Control™ provide a complete access and control of user interface features and settings with the convenience.
C – SAFE connectivity
Standard C-SAFE connectivity facilitates data transfer
User Custom Settings
(1) display unit: Km or Mile (2) buzzer sound: on or off When USB is detected, users may customise (1) name (2) display unit (3) age (4) gender (5) weight (6) buzzer Smart machine will automatically prioritise personalised settings and workout routine when USB is detected
Comfort Fit™
Comfort Fit™ designed with easy to use manual stick shift and streamlined motor cover for running in convenience and comfort.
Deck and Belt
Double-sided pre-waxed reversible deck and 2.5cm pre-waxed belt
Reversible Deck
Yes
Emergency Stop
Safety clip attached to emergency stop switch to immediately turn off power, bringing treadmill to a gentle stop. Stop switch has no magnet to lose and has a guard to prevent inadvertent activation.
Auto Stop
60
Accessories Holder(s)
Yes
Transport Wheels
Yes
Maximum User Weight
181 kg / 400 lb.
Step-up Height
27 cm / 11 in.
Running Surface
(L x W)
155 x 56 cm / 61 x 22 in.
Speed Range
0.8-25 km/h / 0.5-15.6 mph
Decline / Incline Range
0-15% incline in 0.5% increments
*This Treadmill requires 15amp Power Plug Connection*