DIMENSIONS510 x 185 x 304 cm (M/2)
STRUCTURESteel tube ST52 of 80 x 80 x 3 mm thickness high resistance, laser cut for better precision and welded by robotized process. Binding structural plates of 10 mm thickness.
SCREWSNuts and bolts in galvanized steel of hardness 8.8, ultra resistant.
PAINTING PROCESSBlack rough paint to improve grip and durability. 3 layers of paint. Steel pickling and stabilized by immersion of the parts in different degreasing solutions to ensure a perfect and complete cleaning of the base material. Antioxidant primer to ensure adequate isolation of internal oxidation and good paint adhesion. 2 final coats of epoxy polyester powder paint, dried at 240ºC
DESIGN PROCESSErgonomic and biomechanical study under our associated Professional's supervision and by professional athletes. After a long design process; from the drawing of the sketch, engineering research, prototypes making, and tested by Professionals athletes our products are released to the market.
MODULAR SYSTEMCross Area offers the possibility by extension modules growth of the structure both in depth and in extension. Adapting the modular system polygonal spaces and complex combinations. Allows interspersed up to 304 cm in height changes.
ACCESSORIESAttach system to the structure by 2 holding spots. One by polyamide positioner and high security steel reinforced, and a second holding spot over calibrated steel of 25 mm. Support to the structure by bent steel plates of 6 mm thickness, with polyamide reinforcements in inner part, avoiding friction and noise during the exercise. In bars supports and security racks, polyamide reinforcements in supporting areas.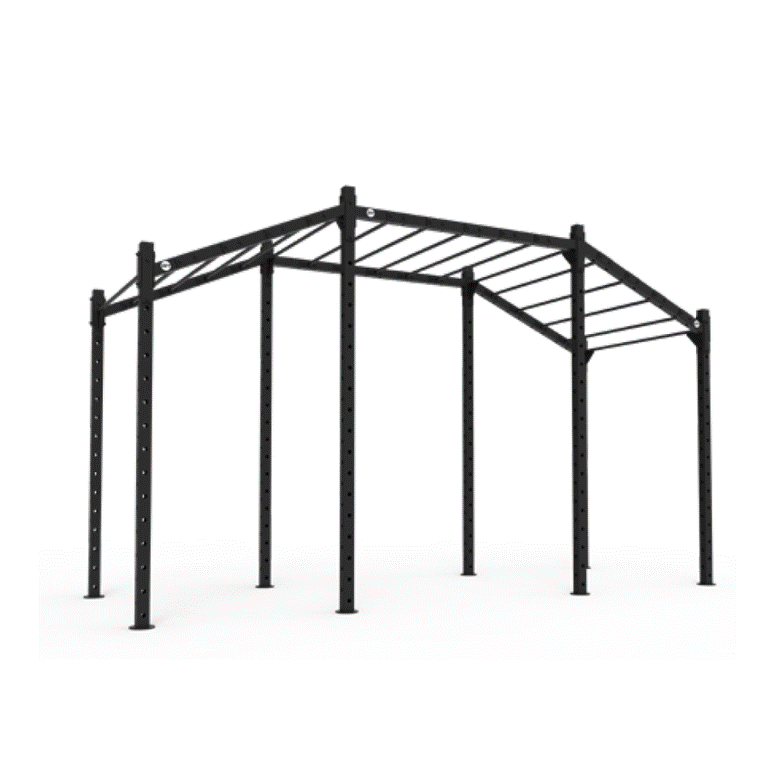 Crossfit Rig M / 2 MODULE UP AND DOWN
The Bodytone's functinal training cage "Cross Area" consists on different modules which can be placed the way you choose.
Get a varied number of structures and put at the user´s disposal an unlimited training resource. Prepare guided activities sessions, functional training, HIIT, use it in the room as one machine more, and squeeze all the potential that gives you this training structure.
Technical information
Structure: steel tube 110 x 52 mm, with a thickness of 3 mm, laser cut for precision and welded by robotized process. Painting: Treatment of 3 – layer cleaning steel pressure jet, mechanical review with abrasive paper for thorough cleaning, anticorrosion primer and electrostatic double layer of epoxy paint pure polyester powder, dried at 240 ° C. Welding: Perimeter closed structural points and tie plates. . 10mm for proper backlash or twisting movement caused by the use and load Accessories: Coating slip rubber grip for safety and (step). Neoprene anti – allergic and anti – slip finish in solid aluminum (funds).