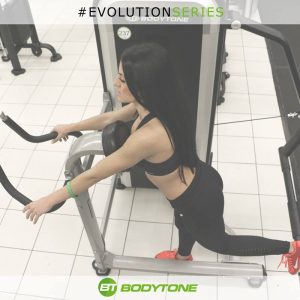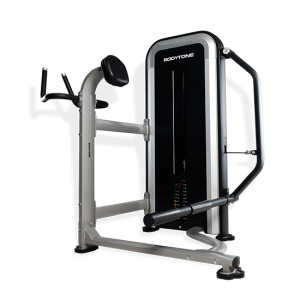 Body Tone E51 GLÚTEOS
Technical information
Transmission: Steel cable 6 mm thick coated PVC with a resistance of up to 900 kg.
Guides: Calibrated carbon steel and treatment dual chrome hardened for better sliding weight plates. Structure: Steel pipe 3 mm high strength, laser cut for precision, and welded by robotized process. padding: simile leather high density, resistant to perspiration, anti – allergenic and antebacteriano, with double padding on models with an area of use . more intense paint process: Steel pickling and stabilized by immersion of the parts in different desengransantes solutions to ensure a perfect and complete cleaning of the base material. Antioxidant to ensure adequate isolation of internal oxidation and good paint adhesion primer. 2 final coats of epoxy polyester powder paint, dried at 240 ° C. Process design: Preliminary study of biomechanics and ergonomics under the supervision of professional athletes and partners. After a long period of design, from concept, engineering research, prototyping, test by professional athletes, for one year, our products enter the market. Tapas and covers: ABS 3.5 mm thick, translucent and high strength. Protection on both sides, according to the EU regulations, to avoid any possible damage caused by contact with the weight plates. Handles: Neoprene anti – allergenic and anti – slip aluminum finish. Brackets and Stands: EVA high density of 5 8 mm thickness with a manual mechanism with a bolt. 3M to ensure the safety of support. Numbered positions recorded laser. Platforms: Made of non – slip material. Selector weight: Magnetic ergonomic rotor and safe wiring. Counterweights: Designed to fit optimal biomechanics. Stroke limiter: Different positions with angle indicator and numbering. Moving parts : Steel ST52 chamfering, calibration and machining. Numbering weight plates: . Numbered and with 3 different colors depending on the level Pulleys: Nylon with an internal bearing and quiet operation. Levers help: balanced, help eliminate excess weight at beginning of year.