Bodytone 4 Stack
The Bodytone 4 Stack Multistation allows for a smooth and efficient performance.
It includes a Lat Pulldown, Tricep Pushdown, High-low Adjustable pulley and s Seated Low Row.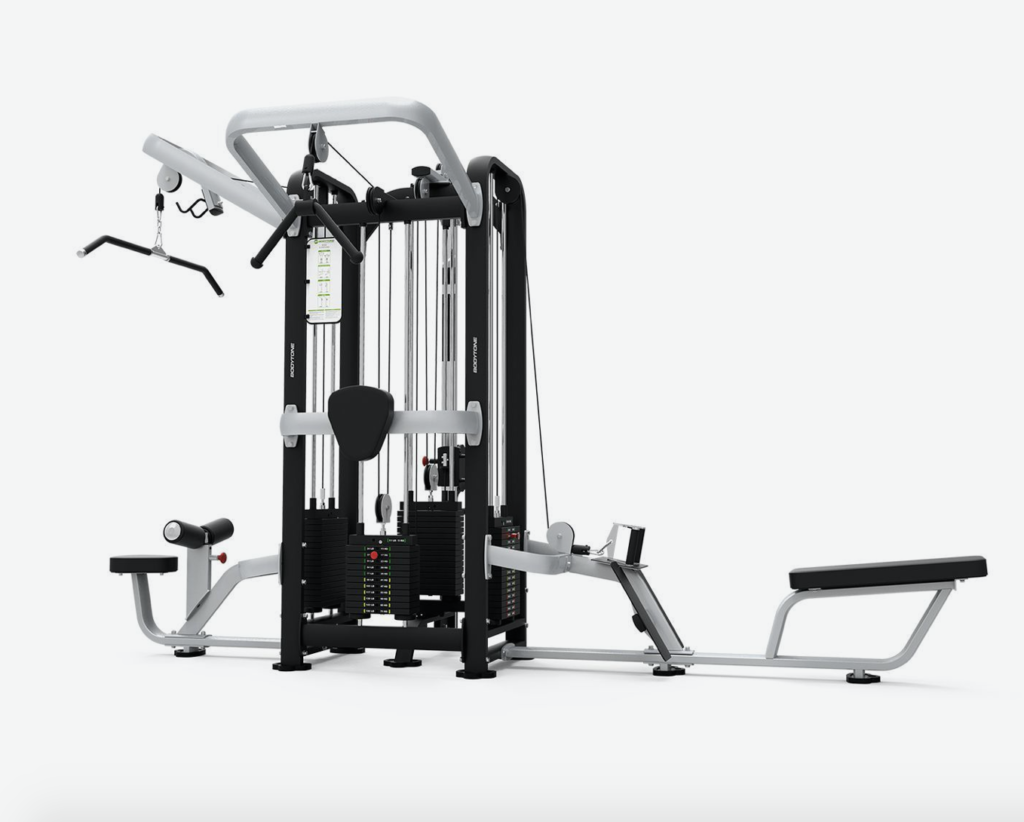 DIMENSIONS 380 x 184 x 236 cm
WEIGHT PLATES 3 columns of 95 kg (optional of 125 Kg) y 1 column of 71 Kg (optional of 93 kg).
STRUCTURE High resistant Steel tube of 3 mm thick, laser cut for more precision and welded by robotized process.
PULLEY Nylon with internal bearing and silent working.
TRANSMISSION Steel cable (6 mm thick) PVC covered of 900 kg of Tensile strength.
GUIDES Calibrated solid carbon steel and hardened double chrome treatment for better sliding of the weight plates.
PADDED High density Leather simile, perspiration resistant, antibacterial and antiallergenic with double padding in models with intensive use surface.
OTHERS Include 1 low row, 1 high lat pulldown, 1 height adjustable pulley, 1 up pulley for triceps.
PAINTING PROCESS 7 layers of paint. 3 layers of protection and 4 of painting. Steel pickling and stabilized by immersion of the parts in different degreasing solutions to ensure a perfect and complete cleaning of the base material. Antioxidant primer to ensure adequate isolation of internal oxidation and good paint adhesion. 2 final coats of epoxy polyester powder paint, dried at 240ºC.
DESIGN PROCESS Ergonomic and biomechanical study under our associated Professional's supervision and by professional athletes. After a long design process; from the drawing of the sketch, engineering research, prototypes making, and tested by Professionals athletes our products are released to the market.
PLATFORMS Nonslip cover materials 3M, to ensure a safe contact, positions.
WEIGHT SELECTOR Magnetized with ergonomic rotor and safety cable.
OTHERS Mobile pieces ST52 Steel calibrated, beveled and mechanized.